Cleaning up your yard can be a tedious job. For people who have done it several times before, they know that it entails more than just raking the leaves and mowing the lawn. Especially when you clean up after a storm has wreaked havoc into your neighborhood, you would need the help of wood chippers to get the job done. A wood chipper is a machine that is usually used to reduce the size of tree branches and trunks into minute sizes, in the form of sawdust and wood chips in order for them to be easily disposed. To learn more about wood chippers, read on further.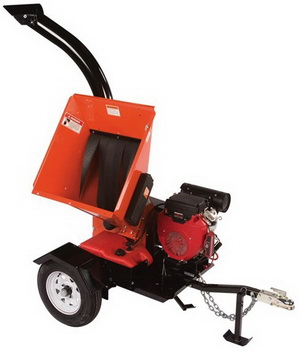 Parts of a Wood Chipper
Essentially, a wood chipper is made of two parts: a hopper and the chipper mechanism. However, some machines, especially the high-end ones, also come with their own collection bins so that operators can conveniently dispose of the shredded wood. The hopper comes with a collar, which serves as a safety feature to prevent any accident from taking place. Without the collar, the machine's operator would be put at risk of getting his or her hand "chipped" by the blades. Industrial types of wood chippers also come with grooved rollers, which allow the tree branches and trunks to be transported to the blades at a steady and consistent rate.
Types of Wood Chipper
There are generally three different uses of wood chippers, and these are: residential, semi-commercial, and commercial wood chippers and based on these, manufacturers have come up with at least three types of wood chippers, namely: high torque roller, drum, and disk wood chippers.
High torque roller: Most homes that buy wood chippers opt for this type since it costs less in spite its power capacity. These machines are electric-powered and operate at slow speed, work very quietly, and some of them even come with an anti-jamming feature.
Drum: Often called the "chuck-and-duck" chipper due to its high speed chipping mechanism, the drum chipper is motor-powered and when the drum is mounted, it spins to the output chute. This type of wood chipper used to be very loud however recent innovations have paved the way for quieter machines that are able to produce small chips.
Disk: One of the most recently introduced wood chipping machines is the one that utilizes a disk in its chipping mechanism. With a disk as its chipping mechanism, the machine is able to use its blade to cut wood tree branches into chips and then thrown into the chute.
Largest Manufactured Wood Chippers
Industrial wood chippers pertain to large machines used for chipping trees. Also referred to as "whole tree chippers," such machines are fully capable of chipping trees having a diameter of two to six feet. The mechanism for cutting may either be with the use of a disk or a drum, and for some machines, both. Usually, industrial scale wood chippers are being used by companies in the paper plant business as well as sawmills. These giant machines are mostly stationary and need the help of trailer trucks to transport them from one place to another.
---